FIFA Master Alumni – Where are they now? Angelo Rigopoulos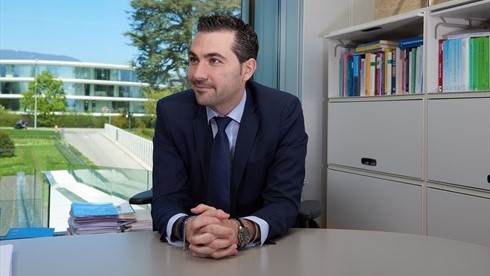 Angelo Rigopoulos
Current Position: Head of National Associations Governance at the UEFA (Union of European Football Associations)
Year of graduation: 2010 (10th Edition)
Nationality: Italian / Greek
What does your current role involve?
I joined the Union des Associations Européennes de Football (UEFA) in 2010, one week after graduating from the 10th edition of the FIFA Master. For my first position, I was hired (with a special agreement between FIFA and UEFA) to work as a lawyer in FIFA's Players' Status Department in order to deal with transfer related and employment related disputes (i.e. clubs vs clubs, players' vs club) with a European dimension. After having spent almost 3 years in this position, I moved to Nyon and joined the Sports Legal Services unit, within the legal division working as legal counsel for all regulatory and statutory matters. In February 2017, I was promoted to Head of National Associations Governance within the National Associations Division.
My unit (National Associations Governance) is responsible for dealing with all matters relating to governance within all of UEFA's National Associations (NAs). In particular, we provide assistance with internal affairs and review – in cooperation with the legal division – the statutes of the NAs. In addition, we also deal with all governance related matters and assist on problems within the NAs, especially in cases of undue state/political/governmental interference in football affairs. Furthermore, I am the administrator of the UEFA National Associations Committee, which reports directly to the UEFA Executive Committee. Thanks to my legal background, I also deal directly with potential suspensions of UEFA members associations. Another interesting project I am heavily involved with is the implementation at national level of the Autonomous Agreement on minimum requirements for standard professional football player contracts as agreed in 2012 by UEFA, ECA, EPFL and FIFPro Division Europe. Finally, on a yearly basis, my unit is also responsible for the distribution of solidarity payments to the NAs from UEFA Club Competitions.
Which aspects of the FIFA Master course have helped you most in your career?
The FIFA Master was a key component in the development of my career. Not only did I gain a lot of experience in dealing with and understanding people with different backgrounds and cultures, but also the Management, Law and Humanities of Sport modules of the course provided me with the necessary tools in order to have a full understanding of the sports industry. In particular, the management module in Milan was for me the most beneficial with my legal background as, once this module was over, I was able to also understand the business and financial aspects of sports. Of course, the international aspect of the FIFA Master, with different modules in three different countries and with people coming from the whole world to join my class, was also very important. Indeed, I now often meet FIFA Master alumni in key football stakeholder positions as part of my daily work.
What advice would you give to future students on the course?
My advice to future students of the FIFA Master is to profit from every aspect of this international course. This includes not only classes, guest speaker lectures and field visits, but also social events. Be active, listen and share opinions during the classes. This is fundamental! Sometimes we underestimate the things we can learn from our fellow students. Sharing experiences and points of view, in my opinion, is as important as studying from the books and notes given by the course professors.
The FIFA Master - International Master in Management, Law and Humanities of Sport is organized by the CIES in partnership with De Montfort University (Leicester, UK), SDA Bocconi School of Management (Milan, Italy) and the University of Neuchâtel. In 2017 the FIFA Master was ranked as the No.1 course in Europe for the fifth time by the SportBusiness International global rankings.
Discover more examples of inspiring FIFA Master alumni career paths by clicking here.