Football and Basketball Legends join FIFA Master Classes at SDA Bocconi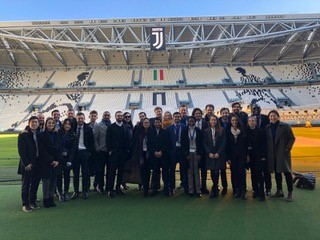 Milano downtown. Via Quadrio 12. Wednesday night. The FIFA Master class is reminiscing over a tingling glass of prosecco, pouring down Mamma Canteri's exquisite lasagne. The third week of the Milan module is rapidly coming to an end. It was about time for the class to reunite as a whole for the first time since Leicester. It was about time for the whole class to have a genuine Milanese food experience. It was about time to reflect on the first weeks of the Milan module and to share expectations of the amazing programme to come.
Yes, already three weeks have passed. Where has all the time gone? Classes and guest speakers at SDA Bocconi, as well as several field trips have made us quickly dive again into the intensive world of being a FIFA Master student. This is a world full of challenges, adventures and culinary experiences. Three aspects that perfectly match with the Italian reality. Furthermore, the opportunity to learn from one another outside of class, from our Professors and from the course alumni we are able to meet during the year is an undeniable quality of the FIFA Master programme. And, here in Milan, it is stronger than ever.
Our lectures so far have focused on the themes of "Leadership & Organization" (D. Ruta), "Finance" (M. Morelli), and "Strategy" (M.Draebye). After approaching sports from a Humanities perspective in Leicester, the switch to the managerial side of sports in Milan has been a clear one. The module offers an incredible opportunity to learn management and leadership skills that can be applied both to our personal and working life.
Furthermore, our daily class schedule has been enhanced by the presence of leading names from the world of sport as our guest lecturers, such as Argentinian football legend and Inter vice-president, Javier Zanetti, and the head coach and former star of the Serbian basketball national team, Aleksandar Dordevic. Such inspiring and humble figures from the sporting world have given us the unique opportunity to discuss what it takes to be a leader. Amongst others, Matteo Zuretti (NBPA), Javier Sobrino (FC Barcelona), and Dennis de Munck (Ferrari) taught the class what it takes to succeed in the sports industry in addition to the sporting performance of the organization.
However, the incredible experience of being a FIFA Master student does not stop inside the classroom. In line with the programme's tradition of educating about the fundamental elements of all sports, we have had the chance to experience this reality with our own hands. Intriguing and insightful field visits to Vero Volley Monza, Juventus' Allianz Stadium in Torino and the Ducati factory in Bologna have made this possible and provided us with the unique opportunity to explore our ideas with managers and HR directors who are significant actors in the world of sport business.
We are excited about what is still to come of our time at SDA Bocconi and each day is a new chance to gather knowledge and unforgettable experiences. Now it is time to finish Mamma Canteri's fine Tiramisù and head home. Unfortunately, it is too late for an espresso, though! However, tomorrow is another day and another chance to savour some incredibly delicious Italian coffee; and for a life that has the same qualities: quick, invigorating and scrumptious.
Vittorio Canteri and Erica Puppo
19th edition class representatives for the Milan module of the FIFA Master