Interview of Bertrand Reeb, CIES President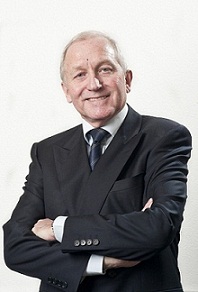 1. Can you first tell us about yourself and your career path?
I'm 68, I'm married and I have one son, Matthieu, who is currently CAS General Secretary. I studied law in Switzerland and then abroad. I first worked as a lawyer for 10 years before being appointed Judge by the Tribunal Federal Suisse in Lausanne. However, from this year, I will be retiring from the Tribunal and will not have any further public responsibilities. Currently, I hold various positions, such as President of the Court of Arbitration of the Swiss Watchmaking Industry and of course, President of CIES!
2. What links do you have with the sport world?
I have rowed since I was a teenager and I'm still practicing on the lake of Neuchâtel. My father introduced me to football during the World Cup in 1954 and since then, I'm a fan. Of course, I support Neuchâtel Xamax!
3. Who is your favorite sportsman and why?
It is difficult to make a choice between champions like Jean-Claude Killy, Alfredo Di Stefano and Wilma Rudolf. Today, Messi and Barcelona are major actors. But If I had to choose only one, I would think of Roger Federer, whose talent and personality are truly exemplary and give honour to sport values.
4. What brings you into the presidency of the CIES?
There are several reasons. Even before I was asked to join I had been interested in this institute since its creation. Indeed, my son was one of the first CIES collaborators. In addition, I was particularly attracted to the CIES project due to its original nature and numerous scientific aspects. It was the first of its kind to link the academic and the sport world. Today we take it for granted, but in 1995 (date of creation of the CIES), this link was extremely innovative.
5. What are the CIES's special areas of expertise?
The CIES is using a multidisciplinary approach in order to provide research, education and consultancy services in the sports world. We have experts in the fields of law, sociology, geography, history and management.
6. What are some of the key examples of your work and research?
An example from our education portfolio is the FIFA Master course, which was recently named the leading postgraduate sports management course in Europe. Organised by the CIES, this intensive course is composed of three modules which are all taught in English at three different European universities : The Humanities of Sport module is delivered at De Montfort University in the United Kingdom. Sport Management lectures are provided by the SDA Bocconi School of Management in Italy and the Sports Law module is provided at the Université de Neuchâtel.
In collaboration with FIFA, the CIES has also developed an international academic network wich offers local programmes in sport management to students studying partner universities around the world. We also have the CIES Observatory which gathers experts specialized in the statistical analysis of sport.
7. How does CIES concretely impact the sport industry ?
With over 90 per cent of our FIFA Master graduates now working in sport and in international organizations, the FIFA Master reaches across all continents and all sports. In addition, experts from the CIES Observatory have also worked closely with federations, producing a range of reports on International Basketball Migration or on the big five European Leagues in Football. This reports can help to inform managers about potentials strategies and for federations to identify trends and make policy decisions.
8. What are the long-term aims of the CIES ?
The CIES has evolved and is still evolving in response to the growth of the world sport. The world sport is increasingly comèplex and specialized and is demanding that new recruits are better qualifed and specialised than ever before. CIES, through its FIFA MASTER want to be part of the answer.
We also want to continue to develop our international university network which allows us to have access to a multitude of local insights and academic and practical experiences from around the world that are then collected and fed back into our programmes. Finally, the CIES is also able to put all its expertise at the service of federations, associations, clubs, sporting indviduals and public institutions on a mandate basis. We want to further develop these relationships and make them an essential part of our services.