Success for Violet Jubane, an alumna from Nelson Mandela University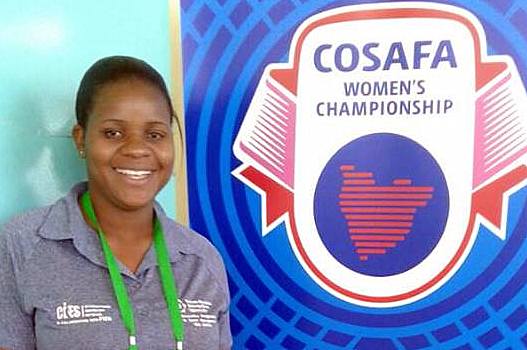 Violet Jubane, an alumna from the FIFA/CIES Executive Programme in Sports Management organised in partnership with Nelson Mandela University (South Africa), has been appointed as a member of the Local Organising Committee of the Cosafa Women's Championship (Cosafa is an association regrouping the football federations located in the Southern part of Africa). The competition took place in Zimbabwe last September.
In this regard, Violet carried out various tasks relating to protocol. As part of her role she was in charge of organising the VIP arena, and, in particular, coordinating volunteers, invitations, catering and ticketing. It is worth noting that Violet worked under the supervision of Theresa Maguraushe who participated in the FIFA Female Leadership Development Programme.
During the competition, Violet was able to use some of the tools and experiences gained within the framework of the FIFA/CIES Executive Programme. "Yes, I consider that this Programme enabled me to run my responsibilities with little problems and with serenity, which is very appreciable!"
Congratulations to Violet. We wish her every successes with her future activities.