"Editions CIES": new publication on sports agents by Dr. Frenkiel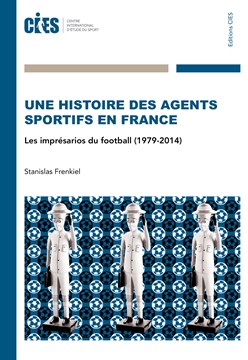 The International Centre for Sports Studies is glad to announce the release of a new "Edition CIES" publication, written by Dr. Stanislas Frenkiel:
Synopsis
Before reviewing the role of a modern professional football agent, perhaps we must first consider stereotypes such as the crocodile leather shoes, cigar and expensive cars often associated with the profession! Despite these clichés, the life of a modern day football agent often resembles that of an international business lawyer, although agents are arguably more aware of how precarious their profession can be. Fundamental questions arise therefore such as who are these agents in France and how have they built careers since the 1970's? And by which socio-historical processes have their fields of activity developed?
Using carefully cross-referenced written sources and interviews with leading sports agents, Stanislas Frenkiel reveals the history of an often criticized and yet extremely decisive profession in what is becoming the increasingly complex world of professional player markets.
Dr. Stanislas Frenkiel
A sport socio-historian and recipient of both UEFA and FIFA research scholarship awards, Stanislas Frenkiel is an international sports migration specialist. Following the award of his PhD thesis on the history of Algerian professional football players in France, he obtained a further three qualifications from the national university Committee: Sociology and Demography (CNU 19), History and Civilisations (CNU 22) and STAPS (CNU 74). In addition to his activities in education and research at the Institute of Sport Sciences at the University of Lausanne (ISSUL), he has also developed scientific outreach activities for prisons.
The book is available on our online book store.