Annual FIFA Master Conference in Neuchâtel on Thursday July 18th 2013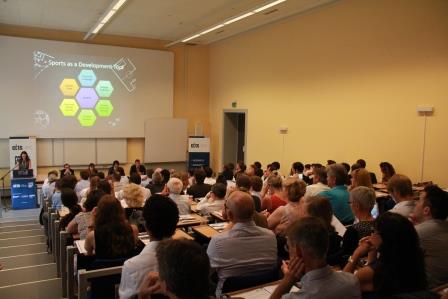 On 18th July 2013, the International Centre for Sports Studies (CIES) will welcome representatives from the sports industry to Neuchâtel, Switzerland, for its annual 'FIFA Master Conference'. This year's conference marks the 13th anniversary of the FIFA International MA in Management, Law and Humanities of Sport (the "FIFA Master").
Ranked as the leading postgraduate sports management course in Europe by SportBusiness International in 2012 and 2013, CIES will welcome the sports industry to this special one-day international conference. Taking place on Thursday 18th July from 13.00-17.30 in Neuchâtel, the conference will showcase the scientific contributions that the 13th edition of the FIFA Master (click here for detailed information about this year's postgraduates) have made to the sports industry with their detailed final project research.
The conference is free to attend and open to all individuals working in sport.
Global Influence
350 graduates from over 80 countries have already graduated from this one-year university course which is jointly delivered by De Montfort University in Leicester (England), SDA Bocconi School of Management in Milan (Italy) and the University of Neuchâtel (Switzerland). Today, more than 90% of our students work in the sports industry, including for example, the Fédération Internationale de Football Association (FIFA), the International Olympic Committee (IOC), the International Basketball Federation (FIBA) and European Rugby Cup (ERC).
Why not join a growing list of international organisations who have recruited graduates from this award winning programme?
Organised by the CIES and endorsed by the Fédération Internationale de Football Association (FIFA), the FIFA Master was created to promote management education within the sports world. It has developed to become a top graduate programme forming all-round managers who can cope with the increasingly complex world of sport.

For more information, please contact us:
International Centre for Sports Studies (CIES)
Alessandro Pellicciotta, Corporate Development Manager
Tel: +41 32 718 3900
alessandro.pellicciotta(at)cies.ch
Files:

Conference_2013_FINAL_01.pdf555 Ki