Best performing big-5 league players: Suárez, Ribéry, Verratti, Alaba and Chiellini - n°57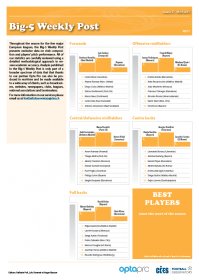 The CIES Football Observatory is happy to inform that the 57th issue of the Big-5 Weekly Post has been published. This edition focuses on the best performing big-5 league players: Suárez, Ribéry, Verratti, Alaba and Chiellini.
Ballon d'Or contender Franck Ribéry was the most productive offensive midfielder in the big-5 leagues since the start of the season. His main rival, Cristiano Ronaldo, ranks second among forwards. Lionel Messi was not included in the analysis as he played less than two thirds of championship minutes.
The rankings compare players according to key performance indicators exclusively developed by the CIES Football Observatory academic team using data provided by our partner Opta Pro. The indicators measure both the production and efficiency of players in six complementary areas of the game: shooting, chance creation, take on, distribution, recovery and rigour (see explanation below).
All the indicators are perfectly comparable at international level as they were developed by taking into account the differences between leagues in both the style of play and game intensity.
Luis Suárez outranks Cristiano Ronaldo (1st in Spain) and Neymar among the best performing strikers. In the remaining leagues, Carlos Tévez tops the table in Italy, Zlatan Ibrahimovic in France and Marco Reus in Germany.
Franck Ribéry was the best performing offensive midfielder both in Germany and at big-5 league level, ahead of James Rodríguez (1st in France) and Miralem Pjanic (1st in Italy). In the other leagues, Samir Nasri tops the English table and Andrés Iniesta the Spanish one.
Paris St-Germain rising star Marco Verratti heads the ranking for central and defensive midifielders. The young Italian prodigy outperforms Gabi Fernández (1st in Spain) and Arturo Vidal (1st in Italy). Former full back Philipp Lahm ranks first in Germany, while Aaron Ramsey tops the English table.
Another very young player tops the table for full backs: David Alaba. In the other leagues, the best performing full backs were Douglas Maicon (Italy), Layvin Kurzawa (France), Pablo Zabaleta (England) and Dani Alves (Spain).
Finally, Giorgio Chiellini finishes top of the ranking for centre backs, ahead of Dante Bonfim (1st in Germany) and Leandro Castán. Alex da Silva heads the French table, Dejan Lovren the English one and Gerard Piqué was the best performing centre back in Spain.
More rankings are available in the 57th edition of the Big-5 Weekly Post. For more information, please contact us at [email protected]
CIES Football Observatory key performance indicators
Shooting: ability to take advantage of goal opportunities through accurate shooting
Chance creation: ability to create goal opportunities through efficient passing
Take on: ability to create dangerous situations by successfully challenging opponents
Distribution: ability to hold the grip on the game through efficient passing
Recovery: ability to minimise goal opportunities for opponents through proficient ball recovery
Rigour: ability to minimise goal opportunities for opponents by efficiently blocking their actions