FGV, CIES and the FIFA Master Alumni Association to host joint Seminar on "Sport as a Tool for Human, Economic and Social Development"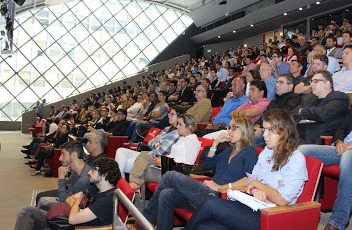 Inspired by the Declaration of Principles "Sport for the Service of Humanity" (http://sportforhumanity.com/declaration-of-principles/) and the Conference "Sport and Faith" held at the Vatican in 2016 with the special support of the United Nations and the International Olympic Committee, Fundação Getulio Vargas (FGV), the International Centre for Sports Studies (CIES) and the FIFA Master Alumni Association (FMA) will host a joint Seminar on "Sport as a Tool for Human, Economic and Social Development" The event will take place in Rio on 25th August 2018.
The Seminar has been organised within the framework of the FIFA/CIES Executive Programme in Sports Management offered in Brazil by FGV and which is part of the wider network of courses currently available in Argentina, Brazil, Chile, Costa Rica, Egypt, Palestine, Peru, Poland, Russia, Senegal, South Africa, Spain, Trinidad & Tobago, United Arab Emirates and Venezuela.
The event will allow participants to think about the place and role of sport within our society and specifically how it takes on manifold and contrasting aspects: from millionaire clubs and athletes to street sports and children playing football with a tin can, from sport as an important tool for gathering and sharing, to sport being exploited by ultra-nationalism. The debates will focus on topics such as, among others: "Sport and Social Responsibility", "The Soft Power of Sport", "Sport and Social Development" and "Sport and the Integral Development of the Human Being".
World leaders have underlined the crucial impact of sport in our world, as a key factor in better understanding and social integration. Among them, Kofi Annan, former UN Secretary General, declared when launching the 2015 International Year of Sport and Physical Education : "Sport is a universal language. At its best, it can bring people together, no matter what their origin, background, religious beliefs or economic status. And when young people participate in sports or have access to physical education, they can experience real exhilaration even as they learn the ideals of teamwork and tolerance. That is why the United Nations is turning more and more to the world of sport for help in our work for peace and our efforts to achieve the Millennium Development Goals."
In this regard, Pedro Trengrouse, FIFA Master Alumni (4th edition) and Academic Coordinator of the FGV/FIFA/CIES Executive Programme, comments: "We are very happy to contribute to the debate and critical thinking on sport and society. As with many other personalities, Pope Francis supports this kind of initiative. In a message that I received from him, he welcomes the organisation of the event and encourages all institutions and participants to continue promoting sport as a virtuous practice and which helps in fostering the integral growth of human beings and the development of communities. Sport is not only a form of entertainment, but, above all, an instrument to strengthen a culture of fraternity and solidarity as well as a tool for building a more peaceful and fair world."
Information:
The FGV/CIES/FMA Seminar on "Sport as a Tool for Human, Economic and Social Development" will take place on 25 August 2018, at the Centro Cultural FGV, at Praia de Botafogo 186, 22250-040, Rio de Janeiro, from 9h to 19h.
The programme and registration are available at: www.fgv.br/seminariogestaoesportiva