FIFA MASTER ALUMNI – WHERE ARE THEY NOW? – SARAH CRUMBACH
Picture: Sarah Crumbach (right) with a young change-maker from Azerbaïjan at the Youth Olympic Village in Buenos Aires
Sarah Crumbach
Current Position: Youth Olympic Games Services Manager, International Olympic Committee (IOC), Lausanne, Switzerland
Year of graduation: 2010 (10th Edition)
Nationality: German
What does your current role involve?
Having started at the IOC as an intern in 2010, I have held several roles in the Olympic Games Department, connected to Games planning and operations. In my current role, I am responsible for the planning and implementation of Accreditation, Accommodation, Food & Beverage, Logistics, Transport, Arrival & Departure Services and International Travel for both the Summer and Winter Youth Olympic Games (YOG). Although the projects are not directly visible on the field of play, the Games would not be possible without this work and it takes solid sport knowledge to design the various services. Whether it is the transport system, sports equipment delivery or menus with the right nutritional standards, attention to detail is key to ensure athletes, coaches, referees, wider workforce and media have what they need to perform their roles.
What I like most about this position is that I get to work with almost everyone. First and foremost, this is with the Organising Committee and its partners, but also with the many different departments within the IOC (sport, marketing, medical, legal, events, etc.) and various other key clients and stakeholders (National Olympic Committees, International Federations, Sponsors, etc). For specific aspects of the project, I also collaborate with external contractors and experts.
One of the biggest challenges of the job is to ensure services are suitable for an international high-level event, while maintaining a reasonable budget and keeping complexity low. The sharing concept – sharing spaces, services, resources - is something we have been promoting through all the Youth Olympic Games and after a couple of editions, the concept has now been widely embraced by our stakeholders.
Although the role is quite technical, the spirit of combining sport, education and innovation is something that we strive to implement through every aspect of the event. The 2018 Buenos Aires YOG that just finished in October were more urban, more inclusive and more innovative than any edition of any Olympic Games before. Having the Opening Ceremony in the centre of the city instead of a stadium, implementing a park concept of combining different sports competitions, sports initiation and education in a festival atmosphere, and giving free access to over 1 million spectators (including 200,000 school children) were all key factors in making the YOG a success. It was also the first Olympic event with full gender equality in terms of participating athletes.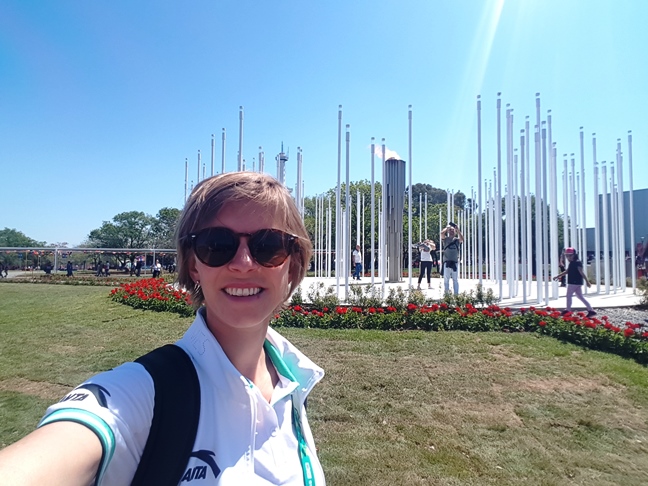 Picture: Youth Olympic Park with the Olympic flame
Which aspects of the FIFA Master course have helped you most in your career?
Before attending the FIFA Master, I had already undertaken theoretical and practical experience in the sports world. However, I did not know much about sports governance and the structures within the international sports industry. The FIFA Master gave me that deeper understanding. Being able to meet so many different professionals from diverse backgrounds, whether it was my classmates, lecturers or experts during our field visits, was a great benefit to me. These contacts and networks still help me today. Finally, the master gave me the opportunity to regularly work in an international environment and to find solutions in different contexts with people who operate differently from me.
What advice would you give to future students on the course?
Keep an open mind and you will greatly benefit from the FIFA Master. You will learn from your lecturers, from your classmates and from the journey you will make together. You will learn a lot in the classroom and even more during your field visits, group work and social activities. Ask questions, debate, reconsider. Keep your goals in mind but try to absorb as much as you can from all the talented people around you. And of course – enjoy it!
FIFA Master - International Master in Management, Law and Humanities of Sport, ranked No.1 Course in Europe 2012, 2013, 2014, 2015, 2017 and 2018 by the SportBusiness International global rankings.
Organised by CIES in partnership with De Montfort University (United Kingdom), SDA Bocconi School of Management (Italy) and the University of Neuchâtel (Switzerland).
Discover more examples of inspiring FIFA Master alumni career paths by clicking here.